From yourname to yourname.com in a few easy steps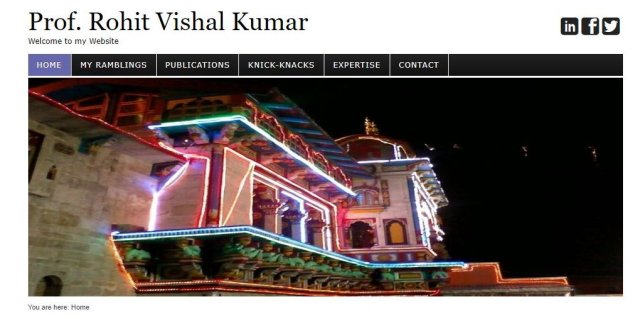 Now a days, everyone and his friend happens to be on some form of social media – be it Facebook, Instagram, TikTok, Twitter or some other. As the number of social media sites proliferate, it has become easier for the users to create online profiles and manage them. But the social media websites are equivalent to empty calories – which provides a high without providing any useful gain to the user. As an alternative, have you ever considered having your own website? Your won website on the internet becomes a one stop shop for impressing your friends and family and for showcasing your talents to the world. It also becomes the integrating point for all your social media sites – generating and providing content for the development of your social media accounts. But the most important aspect is that you get your hands dirty and get a lot of experience in terms of website hosting, server management, content management and development, social media integration, search engine optimization and of course, digital marketing or in your case, self-promotion. Who knows, if your website becomes famous – you may be able to generate enough income for this lifetime.

Many users may feel intimidated while thinking about starting a website but let me assure you it is fairly easy. I will use an analogy of building a house to guide you through the process. Consider what do you need is you are going to build a house? A plot of land would be the prime requirement on which to build your house. In terms of website development this is akin to having a hard disk space – where you can store your webpages, images, media files etc. – and which is accessible to the world at large. Of course, you can use your own laptop to host your website but the problem is that your laptop may not be connected 24x7 to the internet or you may not have sufficient internet data to handle the constant demand for your pages by people who are surfing the internet. In comes companies which specialize in providing you this space. They are known as webhosts or hosting service providers. GoDaddy, HostingRaja, Hostinget, Hostgator, a2hosting, bluehost etc. are various hosting service providers available on the internet. They offer different packages with each package having a combination of webspace, and other available features. Choose wisely – do not go in for their top end packages. I would recommend buying a basic package with 5 GD space and at least 1 database to begin with. Also, if possible, add one SSL certificate and Cloudfare protection. The entire set-up should cost about 5K for one year. I suggest 1 year to begin with. This allows you to get an understanding of your service provider and also gauge your interest. If after one year you feel that the experience has been satisfactory you can renew or move to another service provider.

Another thing which is required while building the host is that you need to inform the local post-office of your address so that they can send you your communications. In the context of website development, your website address is the uniform resource locator (URL), which is the www.something.com thingy that you type in the browser. This can be obtained from a company registering these URL and these companies are known as domain name registrars. Name.com, Namecheap, Domain.com etc. are some of the companies providing these services; but now a days many of the hosting service providers give you the option of registering your domain name when you buy a hosting package. Many hosting providers would ask you to transfer your existing URL to their domain, but it is safer to keep the two separate. If you decide to buy the URL from the webhost the cost may go up to about 6K for a year. It can go up more if you decided to get hard to get names. Names which end in .com, .org, .net etc. are generally more expensive as compared to .info, .tech, .online which are way cheaper.

Okay, with two formalities out of the way now you need someone or something to build your house. You can, of course outsource the building to an architect (Web site developer) or you can supervise the development yourself. Outsourcing does not give you the learning experience that you are hoping to get. But hold on a second. If you think that the HTML that you learned during your college days is sufficient to build a website you are grossly mistaken. Websites of today are complex creatures and developed with specific tools which are commonly known as Content Management Systems (CMS). CMS is like Microsoft Word in which you type your text, put in your images etc and then publish the result for the world to see on your website. Every CMS has a front end (content management application) in which the users design the webpage and a back end (content delivery application) which is responsible for publishing the design to the website. The most famous CMS is WordPress – but found out that due to its popularity it has become extremely costly. True, you will get the WordPress CMS for free but then all the various themes, designs, image scrollers that you plan to use on your website would require payment. Other great CMS are Drupal and Joomla. If you prefer a rigid approach, try TYPO3 or if you prefer on-page editing you should look towards Concrete5. The CMS can be easily deployed on your site either y you or you could ask your webhost to install a particular CMS. This is the part where the biggest learning takes place. As you develop the pages, you get to slowly and slowly, learn about image placement, color coordination, HTML tags and you have the fun of learning a completely new tool.

Side by side, as your website starts to take shape you would need to develop its online presence. In other words, promote your website using the search engine giants like Google, Bing or Yandex. This procedure of promoting your website using the search engines is known as search engine optimization (SEO). While you are doing SEO, you need to open Webmaster accounts with the search engines. This is a central place where you watch how your website is doing. Not all search engine like what other search engines like. So, you would need to tweak your page to make it compatible with the various search engines – a strategy known as On Page SEO. You would also need to follow various instructions that may be provided by the search engines but is not visible on your website or pages – a strategy known as Off page SEO. Not only that you would need to generate content (like this article ??) to drive traffic to your website from various social media sites. You would also need to engage in Social Media Marketing for promoting your website.

At the end of the day you have the satisfaction of owning a piece of the internet which showcases you and your talents. In the process you not only learn the various techniques but also build up your credentials as you go along. Imagine in an interview you are asked to analyze a website and suggest strategies to increase its web presence. You with your practical expertise and 3600 point of view would be in much better position to answer the question. Did I mention that while doing Off-page and On-page SEO you may also have to indulge in analytics to understand the behaviour of visitors to your site. In short, you end up learning digital analytics too. So the next time someone asks you about your social media presence bluntly say "meet me at www.yourname.com" or whatever you have chosen as your URL to be. Happy Learning.
---
Prof. Rohit Vishal Kumar is Associate Professor (Marketing) at International Management Institute Bhubaneswar. A Marketing professional, he is passionate about Branding and Services Marketing. In his free time, he loves to tinker with Open Source Softwares and technologies.
Written by

Rohit Vishal Kumar